At AA Amusements we can help you to select which amusement rides to hire for your fete, festival or carnival.
Depending on the specifics of your event, such as the location, area available, number of patrons and target audience, we can assist you with a package of amusement rides that will compliment each other and ensure the success of your event
(Click pictures to enlarge)
Kids of all ages love the Super Slide. Up to 3 kids or adults at a time can race down the slide on the burlap sacks provided.
Ages: All ages.
Capacity: 3 at a time.
Area: 33m x 4m approx.
This popular ride is every-ones cup of tea! Make yourself one of the ingredients of this whirling, twirling attraction! Parents, you can take your littlest kids on this one.
Ages: All ages
Capacity: 18 (6 cups x 3 riders)
Area: 9m diameter
Hold on tight while the Super Swing spins your world! The speed of this swing can be altered to suit everyone from thrill seekers to the more sedate rider.
Must be at least 1M tall.
Capacity: 24
Area: 20m diameter
Fantastic fun & no previous experience necessary.
Ages: 8 years and over
Weight: Must be under 50kgs
Dress: Australian Approved Safety Helmet supplied. Must have covered footwear.
Area: 30m x 14m approx.
The classic Ferris Wheel is an ever popular favourite. Climb on board for a birds eye view of your event!
Ages: 3 to 15 years.
Weight: No more than 50kgs (pp)
Capacity: 18 riders
Area: 3m x 6m approx.
Kids love this attractive brightly coloured ride, with its mini trucks & cars travelling on a fixed track. This beautifully decorated ride is sure to attract the attention of your younger guests.
Ages: For the littlies.
Capacity: 16 (4 per car)
Area: 10m x 6m.
Another classic, the Merry-Go-Round is always popular with the littlies.
Ages: 3 - 8
Capacity: 8 (1 per horse)
Area: 8m diameter
A novel way for your guests to travel around your event! Without the restriction of set tracks, it's the perfect people mover for all types of events. (Also available in red)
Ages: All ages to adult.
Capacity: Up to 30.
Area: Flat grassed area or bitumen/concrete.
Definitely for the thrill seekers! Feel the centrifugal force as the spinning wheel pins you to the wall, then tilts you on a 45 degree angle. The Round Up will take your event to the next level!
Must be 1.3M tall minimum
Capacity: 30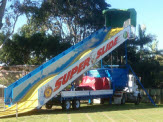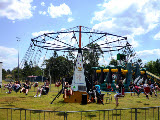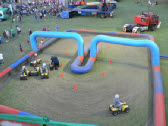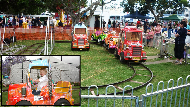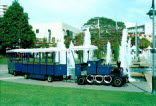 New to AA Amusements range are these bright & colourful jeeps, a ton of fun for everyone.
Ages: 8 years and over
Weight: No more than 50kgs (pp)
Area: 25m x 10m approx.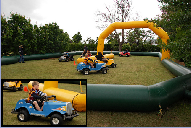 Get in the driver's seat of a hot rod for a ton of fun! A real driving experience without the expense of dodgems. Hire includes 5 hot rods.
Ages: 8 years and over
Area: 30m x 14m approx.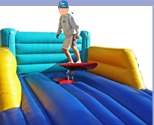 Like WOW Wipeout! This surfing simulator can be adjusted to suit all skill levels. Padded on all sides to guarantee a soft landing.
Ages: 4 years and over
Area: 4m x 6m approx.